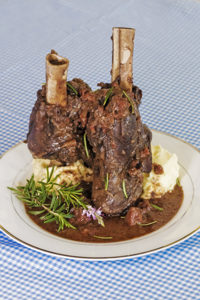 Remember goat meat is to be cooked  as lamb would, do not over cook it.
My personal favourite is slow cooked pulled shoulder roast meat slider served with home made coleslaw and made even better served with a cider or beer.
Other favourites include:
shanks, koftas, Malaysian curry and  finger food ideas.
Chevon Goat Shanks in Rosemary and Tomato
8 goat shanks
Plain flour to coat shanks
2 Tablespoons olive oil
2 onions, sliced
4 cloves of garlic, sliced
1 cup of red wine
2 1/2 cups vegetable or beef stock
400g can of crushed tomatoes
I tablespoon of rosemary leaves
2 tablespoons of chopped flat leaf parsley
Toss shanks in flour to coat and shake off excess.
Place half the oil in a large pan and cook over high heat until shanks are browned.
Remove from pan once done. Add remainder of oil, and garlic and cook until golden.
Return shanks to pan. Add the wine, stock, tomatoes and rosemary to pan and bring to
boil.
Reduce heat, cover and simmer for approximately one hour. Remove shanks and continue to simmer sauce, uncovered, for around 10 minutes until it reduces and thickens.   Return shanks to pan and add parsley, salt and pepper.  Mix together and serve with creamy mashed potatoes. 
Easy BBQ Marinade for Goat Meat

Olive oil- enough to coat meat
1 clove of crushed garlic
A few springs of rosemary and thyme leaves, salt and pepper to taste
Toss together and place in a covered dish in the fridge for a few hours prior to cooking. At time of cooking brush meat with remaining oil. Great when cooking steaks or cutlets.
Cocktail Meatballs made from Goat Meat

500gms minced goat meat
1 egg
Salt and pepper to taste
1 onion finely diced
1 clove of garlic
Sprinkle of Masterfoods Moroccan spice and some smokey paprika. Handful of finely chopped curly parsley
¼ cup of parmesan cheese and just enough panko bread crumbs so you can roll a teaspoon full of mixture into a ball.
These can then be shallow fried in olive oil until cooked through.
Serve with a sweet chili dipping sauce or chili jam.  Best served while warm.